Leading investment and financial experts presented on the outlook for investments in India at the IIC 2014 jointly hosted by the Centre for Investment at the ISB and the IAIP.
The fourth India Investment Conference held on January 17, 2014 at Mumbai, was yet again received with enthusiasm by participants. Jointly organised and hosted by the Indian School of Business (ISB) and Indian Association of Investment Professionals (IAIP) a member society of the CFA Institute, NiSM was the knowledge partner for the conference. The welcome and inaugural addresses were made by Paul Smith, CFA (Managing Director, APAC, CFA Institute), Jayesh Gandhi, CFA (President, IAIP and Executive Director, Morgan Stanley Investment Management, India) and Vikram Kuriyan, CFA (Director, Centre for Investment, ISB). Anil Ghelani, CFA (Director, IAIP and Business Head & CIO DSP Blackrock Pension Funds) was the conference moderator.
In the inaugural address, Paul Smith, CFA updated the audience on CFA Institute's members' outlook on India's economic growth being the most positive in the entire non-Japan Asia region. However, he reminded the audience about the need for a stable source of financing to achieve this growth and highlighted the importance of channelising India's domestic savings in productive investments to achieve sustainable economic growth. He also touched upon the findings by the Economist Intelligence Unit (EIU) group on the issue of business ethics. The EIU report suggests that ethical behaviour needs to be encouraged and promoted at the senior executives and top management levels. It also supports enhanced linkages between ethical behaviour, company profitability and the career progression of  the executives. The finance industry continues to be the least trusted industry globally for three years in a row as per the Edelman Trust Barometer. Paul also highlighted the critical position of the CFA Institute, as a leader in ethics education, in promoting ethical behaviour in investment industry. Paul also reiterated the CFA Institute's continued commitment to India and announced plans to open its India office shortly.
Jayesh Gandhi in his address spoke about the influence of both local and global factors on financial markets. He added that the healthy mix of both local and global experts would add further value to the IIC. Jayesh also highlighted that India was now the third largest region in the world in terms of number of CFA candidates and welcomed the CFA Institute's move to open an office in India to be able to better serve candidates and members. He spoke to participants about IAIP's mission to promote ethical and professional standards and practices in Indian financial markets. He also highlighted the growing significance of IAIP in the Indian context seen through the number of members which crossed 1000 recently and an almost equal number of charter pending candidates. He apprised participants on the two key focus areas for IAIP- continued education and networking opportunities.
The IAIP has been instrumental in organising over sixty speaker events across seven cities in India with local and international experts. It also enhanced engagement with key regulators like Securities Exchange Board of India (SEBI), Reserve  Bank of India (RBI) and the Ministry of Finance, Government of India in areas of advocacy and for promotion of ethics. The IAIP hosts the annual CFA Institute Research Challenge for university students, investment industry professionals, publicly traded companies, and corporate sponsors for local, regional, and global competition. In addition to imparting technical knowledge this educational initiative also attempts to instil ethical values and best practices among participants. It also takes an active role in providing Access Scholarships to deserving students.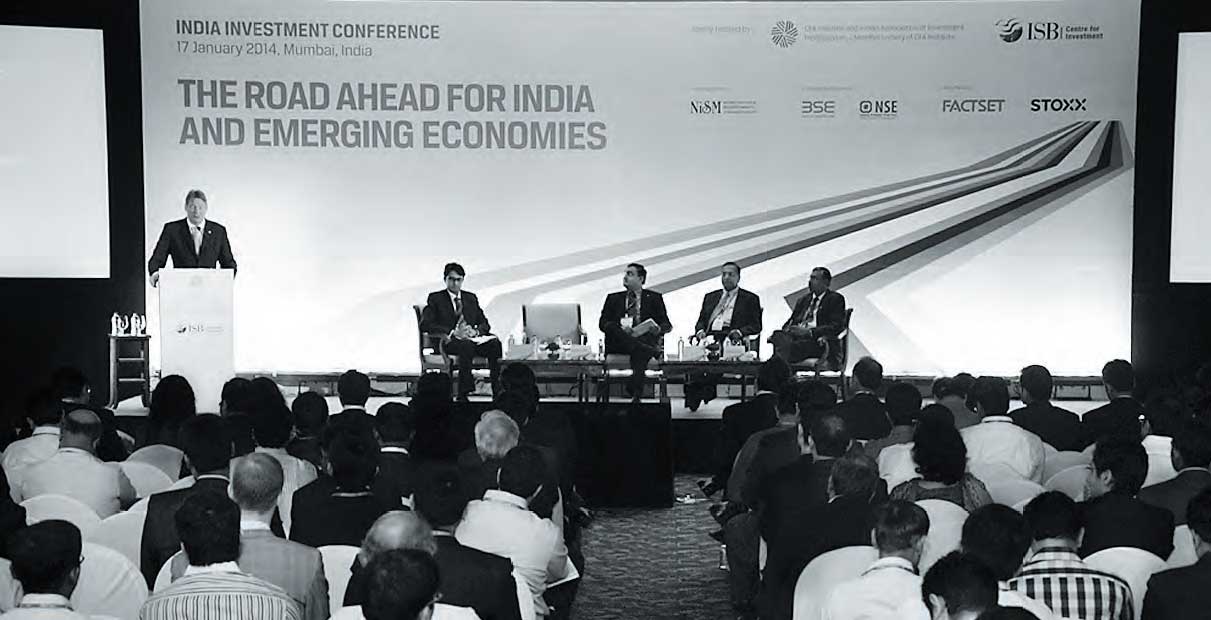 A plenary session in progress at the the IIC 2014
Vikram Kuriyan, CFA, spoke to participants about the ISB's Centre for Investment and its research focus on areas such as investments and corporate risk and governance. Based on insights drawn from research at the centre, he emphasised on the need for diversification of portfolios including access to global products for Indian investors. He highlighted the fact that in times of crisis correlations in market performance significantly increases. However, in the long run a globally diversified portfolio provides optimal value for investors. Ironically, he pointed out that global pension funds invest into Indian equities while Indian pension funds don't follow the global practice. He stated that the road ahead for India's investment professionals is to develop products that truly add value to the society.
The conference had various plenary sessions by distinguished speakers including Avinash Persaud (Chairman, Elara Capital and Intelligence Capital and  adviser to India's Financial Sector Legislative Reforms Commission), Richard Duncan (Chief Economist, Blackhorse Asset Management), Frederic Lebel, CFA (Co-CEO of OFI MGA and owner of HFS Hedge Fund Selection S.A. and Planning Committee Chair of CFA Institute Board of Governors) and Dr. Fereidun Fesharaki (Chairman, FGE). The sessions focused in detail on the following topics- The End of Quantitative Easing: Outlook for Emerging Economies and Rupee, Corruption of Capitalism: Challenges to Sustainable Growth & Asset Allocations, Future of Finance: Key Issues Facing the Finance Industry and A Changing Global Energy Landscape – Implications for India.
The last session of the conference was a panel discussion on the topic- India Investment Outlook. Leading market experts including Samir Arora (Founder, Helios Capital), Manish Chokhani (Managing Director, Alliance Holdings), Abhay Laijawala (Head of India Equities Research at Deutsche Bank), and Jayesh Mehta (Managing Director & Country Treasurer, Bank of America, India Operations) participated in the session. Vidhu Shekhar, CFA (Consultant, CFA Institute) closed the conference with a vote of thanks. The conference provided members and participants an opportunity to not only gain expertise through sessions with global leaders in the industry but also enhance perspectives and share knowledge on best practices.
Priyank Singhvi, CFA and Chetan Shah, CFA, Director, IAIP & Senior Portfolio Manager, Religare Invesco AMC jointly contributed this report for ISBInsight.