A 2014 McKinsey study projected that by 2025, family-owned businesses may come to account for as much as 40% of the world's large enterprises, from a low of roughly 15% in 2010. In emerging market economies such as India, institutional voids and limited levels of professionalisation keep family involvement in business much higher than in advanced countries. The Thomas Schmidheiny Centre for Family Enterprise reported in a 2017 white paper, for example, that more than 90% of all companies listed in the stock exchanges in India are family controlled.
Conceptually, a family business is one whose ownership and more often management are controlled by one family or a few families. The family ownership group is an emotionally bonded, socially constituted, collective entity, holding together individual shareholders of a business. Yet only in the past quarter century or so has the world started taking note of the uniqueness of family-controlled businesses. Ownership-related discussion had hitherto largely focused on legal entities such as proprietorships, partnerships and joint stock companies.
The unique challenges of managing a family business were first systematically captured in the "Three Circle" model developed by Renato Tagiuri and John Davis in the late 1970s and elaborated in a classic article titled "Bivalent Attributes of the Family Firm". As Davis noted in a recent interview, the research was inspired by the conversations Renato Tagiuri, a senior Professor of Organisational Behaviour at Harvard Business School, was having with students who led family businesses. Davis was his PhD student. Davis himself later went on to lead the family enterprise area at Harvard Business School for over two decades before moving to the Massachusetts Institute of Technology Sloan School of Management (Sharma 2018).
Uniqueness of Family Business
Fundamentally, a family business is different from a non-family business in terms of its approach to management. Family businesses retain a sense of "familiness" even when they expand and bring in non-family stakeholders such as executives and shareholders. For the business family, the business is an extension of the family. In addition to business competition, the family business is governed by the principles of family management, such as compassion and sacrifice.
There are multiple overlapping roles for the various internal stakeholders that make management of family businesses quite challenging (Figure 1). The three circles represent the major stakeholders in the family business. First are family members who may or may not have shares and business involvement. Second are the executives involved in the business, who may again vary in their family connections and share ownership. Last but not the least are owners, with or without family connections or business involvement. The ownership circle was the last one contributed by Tagiuiri and Davis in their seminal work (Sharma 2018).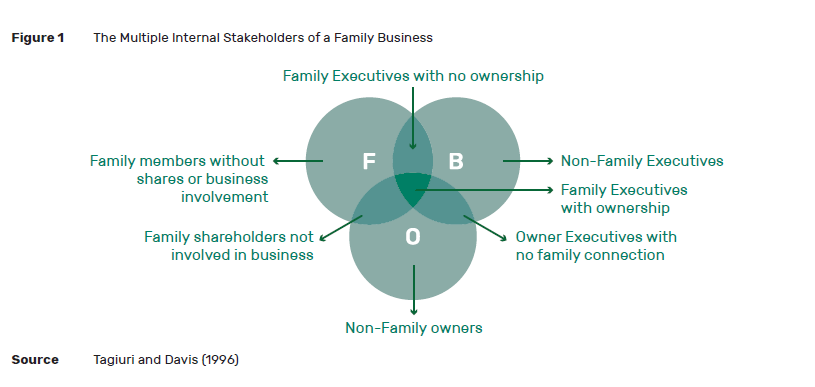 Interactions between those who wear a single hat and those who wear two or even three hats can be complex. For instance, family managers must offer compassion in their roles as family members and focus on competition in their roles as managers. This can lead to confusion in taking decisions. For instance, an owner who needs immediate money may look at the utilisation of surplus funds differently than an outside investor who wants to reinvest and grow the wealth in the firm. The perspective of an employee who wants better rewards may differ from both. Similarly, a family member who is neither a shareholder nor an employee may not be able to appreciate the concerns of a family member who combines all these roles.
There are several areas where family managers or their colleagues face decision dilemmas. The list of these challenges is long. It changes as organisations and families evolve. The challenge is greater when the decision making involves non-family executives whose personal goals are career building and rewards. These objectives are very often not in sync with those of the promoter family members. The complexity gets compounded when we consider non-family owners too, whose goals and priorities in most cases may not always match those of the promoter family.
The success of a business is dependent on its managers taking decisions objectively, in the interest of the business even if it means penalising a family executive. There is no certainty that family business leaders will always take decisions in the best interest of the business if they have to make a choice between family and business priorities. Professionalism may get compromised if family managers take decisions keeping the interests of the promoters as supreme.
Notwithstanding the complexity and overlapping challenges of multiple roles, multi-generational family businesses flourish in most continents. These institutions are living examples of the practice of high quality governance and professionalism on a continuous basis across generations. Tagiuri and Davis' model has gone a long way in shaping our understanding of these enterprises.
Know More
Bang, N.P., Ray, S. and Ramachandran, K., 2017. Family Businesses: The emerging landscape 1990-2015. Thomas Schmidheiny Centre for Family Enterprise, ISB, Hyderabad.
Björnberg, Å., Elstrodt, H.P. and Pandit, V., 2014. The family-business factor in emerging markets. McKinsey Quarterly, 80(90), pp.70-80.
Sharma, P., 2018. Celebrating the 40th Anniversary of the Three-Circle Model: An interview with John Davis. Family Firm Institute Practitioner, June 6.
Tagiuri, R. and Davis, J., 1996. Bivalent attributes of the family firm. Family Business Review, 9(2), pp.199-208.