As per a recent publication by Pacific Bridge Medical, the dialysis market in India has increased from USD100 million in 2007 to about USD200 million in 2018 and is projected to grow at an annual rate of 30% as compared to 6-8% in the United States and other developed economies. To tap this burgeoning demand, Sparsh Nephrocare, a chain of dialysis centres, focused on the growing problem of dialysis management in both urban and semi-urban India. The company grew in the early years of its operation by opening new centres in partnership with existing hospitals and clinics, and by focusing on cost leadership to maintain profitability. However, in July 2015, after five years of operations, the company was at a crossroads on how to enhance revenues and fuel expansion, without adversely affecting its relationship with various stakeholders. Case author Professor Sarang Deo reflects on his experience of writing a case on the challenges faced by Sparsh for their next phase of growth. 
ISBInsight: How did Sparsh Nephrocare capture your attention? What led you to write a case on it? How was your experience developing this case with ISB alumni (case protagonists) and ISB students (case writers)? 
Sarang Deo: One of the founders of Sparsh, Gaurav Porwal, had met me earlier and talked about supply chain related challenges that they were facing at Sparsh Nephrocare. When students in Cohort 2015 approached me for an independent study, I asked them to come back with a specific idea. Incidentally, one of the students, Sourav Singh, knew both co-founders, Gaurav Porwal and Saurav Panda, and suggested analysing their operations. 
It has been a great experience working with both sides of the ISB diaspora. Sourav knew the case protagonists from their regular visits to the ISB campus, where informal meetups and networking events between students, faculty and alumni often lead to collaborations and tangible outcomes. It is very different working with alumni and students together as client management is much easier. Alumni understand student life and commitments but can also push them harder. Faculty do not have to be the bad cop! 
ISBInsight: Could you shed some light on Sparsh Nephrocare's business model? 
Sarang Deo: Prior to Sparsh Nephrocare's entry, most dialysis providers would service patients in standalone centres. Many of these were targeted towards patients in higher income segments. Sparsh decided to create a service offering at a lower price point, with special emphasis on smaller towns. To keep their costs and risks low, they partnered with existing clinics and hospitals who did not traditionally specialise in this service but had spare physical space to lease and a catchment of patients. As the clinical component required in dialysis service is minimal, being engineers, Gaurav and Saurav found easier to focus on standardising the processes to gain cost efficiencies. The revenue models varied from a flat fee per patient initially to a revenue-sharing and profit-sharing model over time. 
Another interesting dimension of their business model is the need to form networks with both nephrologists and hospitals. An interesting dilemma is which stakeholders to approach and partner with first, which may depend on the competitive dynamics and existing players in that particular market.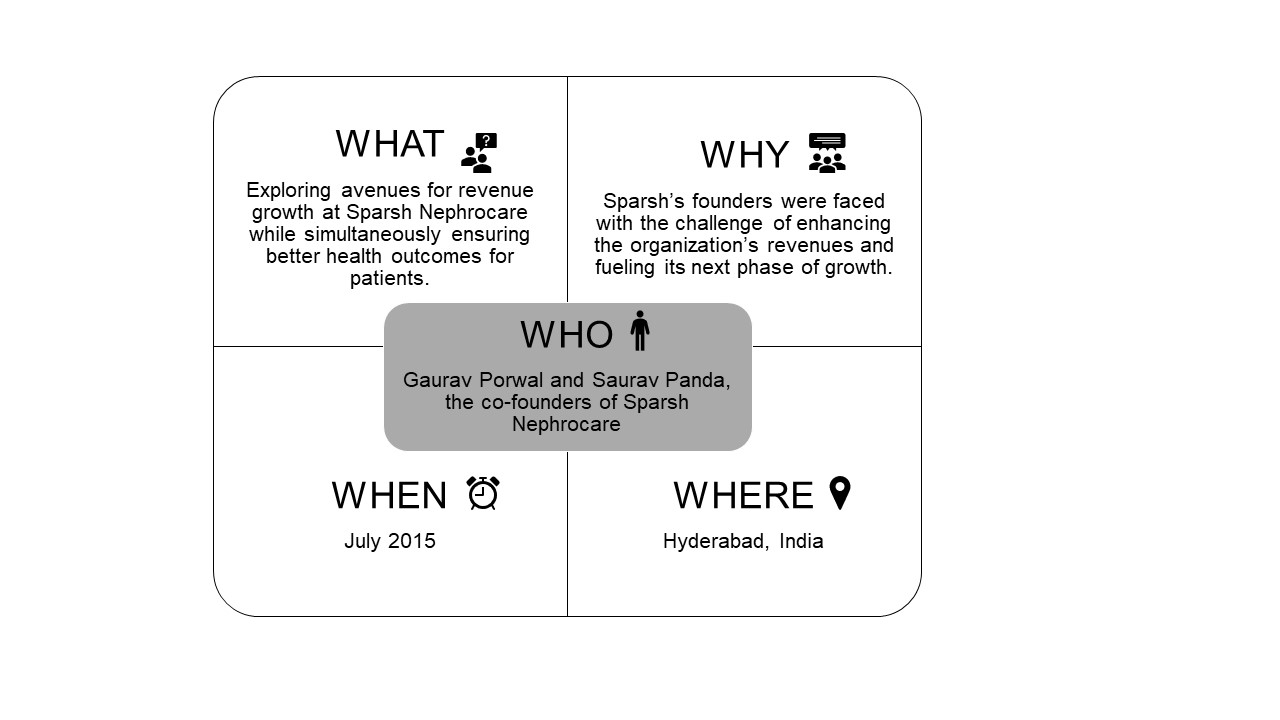 ISBInsight: What are your views on the current dynamics of the Indian dialysis sector? Where do you see opportunities and challenges? 
Sarang Deo: Unfortunately, India has one of the highest number of diabetic patients in the world, whose complications include kidney function impairment or failure. As many as 125 million people (about 10% of India's population) suffer from chronic kidney disease. Therefore, dialysis is a growth business in India, and because of the extremely limited number of nephrologists in India, a clear market opportunity existed for Sparsh. To complicate matters, many kidney diseases are diagnosed late, are poorly controlled and develop severe renal function problems. Because of lifestyle changes in India, this number is likely to increase, and the trend is unlikely to reverse any time soon. 
While opportunities exist in India for dialysis care and the market is expected to grow steadily, there are several challenges for entrants and incumbents alike. Foremost among them is that many patients are in smaller towns, where healthcare services are limited. Still more patients live in the hundreds of thousands of villages across India, where connectivity and healthcare service delivery difficulties are further compounded. In the vast majority of these cases, patients do not have access to specialists (nephrologists and endocrinologists) who can oversee the dialysis and its outcomes. In such cases, public-private partnership schemes such as Arogyasri, Pradhan Mantri Jan Arogya Yojana (PMJAY) and Pradhan Mantri National Dialysis Programme (PMNDP) have filled a key gap. Under such schemes, both patients and dialysis service providers stand to gain from the partnership. While patients experience improved health outcomes, dialysis providers stand to acquire customers more efficiently while simultaneously enhancing their reputation. 
ISBInsight: After the setting of this case, Fresenius Medical Care bought an 85% stake in Sparsh.  What do you think is exciting about the Indian dialysis sector that it is garnering interest from entrepreneurs as well as investors? 
Sarang Deo: Over the past decade, various multinational dialysis providers have entered the Indian market through partnerships with organically-grown Indian dialysis providers. Prime examples of such partnership- and acquisition-based entry into the Indian dialysis sector are DaVita's investment in NephroLife (2011), Bessemer's investment in NephroPlus (2011), and Medtronic's partnership with Apollo Hospitals (2016). However, these companies then have to compete with homegrown players and may have to face the same issues as their Indian predecessors, namely a very distributed healthcare system and a challenging healthcare infrastructure situation at many interior parts of the country. Consequently, multinationals may find it hard to sustain the entry as the cost structure is very different and may find smaller towns and cities not profitable, unlike their Indian predecessors who adjust better to these challenges.  
On the other hand, the current number and the projected growth rate of patients requiring dialysis care, coupled with existing sub–optimal infrastructure, present growth opportunities for entrepreneurs and investor entrants. This is evidenced by continued investor interest in start-ups like NephroPlus, who completed a Series D fundraise in November 2019 from Investcorp for its international expansion. 
However, exciting is the wrong word. Prevention is always better than cure, and in the case of dialysis management, healthcare professionals go a step beyond providing cure to simply providing care. It is unfortunate that the dialysis market size is very large in India and that it is likely to grow. But the overall dialysis rate must be brought down in the long term through preventive care and disease management, rather than symptom management. 
About the Writer:
Anusha Parihar is a Senior Content Writer at the Centre of Learning and Management Practice at the Indian School of Business. 
About the Case:
Deo, S., Nemani, N., Singh, S., and Jain N., 2019. Revenue Management at Sparsh Nephrocare. Indian School of Business Case. Harvard Business Publishing 
Available at: https://hbsp.harvard.edu/product/ISB131-PDF-ENG?Ntt=sparsh&itemFindingMethod=Search